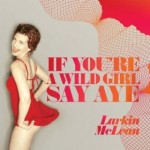 Larkin McLean
http://larkinmclean.com
There is an apparent Irish tradition known as Leap Day Proposal. Hundreds of years ago, it was unheard of for a woman to propose to a man. Thus it was decreed that on any February 29th it was possible for such an event to occur. Thank St. Bridget for the Female Leap Day Proposal.
There is a myth that if a woman proposes to a man on February 29th that it is illegal to refuse. However, this is not law. I bet a bunch of men are breathing a sigh of relief over that one.
If there's something that would be a way to seduce a guy it would be getting around in Pasties and A G-String. While the original version was conceived by Tom Waits, this version that you're listening to now has been re-imagined by Larkin McLean.
So girls, get your body in shape. Take it up a few notches and take off a few things. It's down to the bare necessities of covering up and dancing around. Talk about arousal right? I've met Larkin. She's a firecracker and has a serious sense of humor to boot. Perfect combo for this type of song.
While I'm not sure about the whole female Leap Day proposal thing, I will say it still has a cool ring of romance to it. Go get your spice on and have some fun today. It only comes around once every four years.
Enjoy some Larkin. Enjoy some fun. Enjoy yourself.