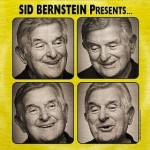 Sid Bernstein
http://www.sidbernstein.com/
How fun it is to forget the history of where you come from. That is the case for many things. The more I learn about the past, the more I see us repeating the good and the bad. My famous argument is about religion and quick they all are to forget their violent pasts. Today however, I learned something new. Turns out that America has a sordid past when it comes to the concept of publishing. Specifically in relation to that of the written word. Yes, our past includes publishers pirating books.
Would it pain you to know that HarperCollins made it's empire on the backs of foreign writers without paying them a royalty? That's right, turns out they stole works from British writers like Dickens, published their work here in America and didn't pay anything in return. Sound familiar?
Fast forward a whole bunch of years and now the U.S. is spearheading a way to enforce copyright law beyond it's own borders. Hello?!? Pot calling Kettle black.
Personally, I'm not a fan of pirating intellectual property. Mostly because it's how I make my own living. Via the royalties I earn from my creations.
Combine that with the recent study that shows how the "1%" are less ethically moral. That's right, turns out that rich people have less morals. Crazy, right?
It's all a game anyway right? This where where I make the jump to Sid Bernstein. A man who has a storied past in the music industry. Especially with working with the likes of the Beatles. That's pretty big right? Sid has released a CD of his own music. While the song itself isn't about pirating music, books, or other media. No, it's about the game of life and love. Which spills over into the idea of music, books, and media. People live and love that stuff.
With the pirating of industries, it would seem it's all a game. Where people think they have a right to take that which copyright protects.
I for one appreciate that the law is attempting to correct itself. It would be even more awesome if HarperCollins would actually go back into their archives, figure out how much they owe the estate of Dickens and pay up (including interest). That would be noble and amazing. I won't hold my breath on that though. Because as it stands those who fight to make money off the backs of others today are much like the publishers pirating books in the past.
Do Sid a favor. If you love the music, buy it. Do me a favor, if you love the blog, sign up for my email list in the upper right of the page. You'll get a nice surprise from me.