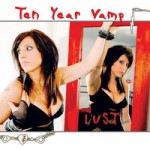 Ten Year Vamp
http://www.tenyearvamp.com/
There's something that 99% of us all want. That is we want others to love us. It's a pretty simple concept really and while I'm thinking about it it's very much likely that the percentage is much higher than 99%. This goes for our personal and professional lives. People want other people to love and admire them. Businesses want customers to love their product and tell others about it. In all the revamping I've been doing lately, I know that I'm looking for others to love it. I even had a discussion about the need for coming up with a name for something that most bands have and some probably don't think much about – the fan club. I'm not sure I've ever seen a band ask fans what they should be called, however it's time some creative contests for names happens. Don't you agree?
Such is the case for myself right now. I've just opened up a little competition on my website where I'm looking for fans to name the club, or insider area. I mean Lady Ga Ga has her Monsters, which probably comes from Fame Monster. John Mayer had his Local 83, not sure what the state of that is now. Maroon 5 has S.I.N. which is appropriate since he sings a lot about sex and misery, though it stands for strength in numbers. KISS has their KISS Army. I could go on, but I'll stop right there.
Each of those bands has the right idea of treating their fans well and making them feel like they're a part of something. Something I'm working on developing and frankly, let's be honest here, something every artist needs. Without the fans we all play music to brick walls. While we can entertain ourselves, it's much more fun with an audience.
Today's band, Ten Year Vamp, is doing a lot of things right. Especially when it comes to the most important part – the music. It was a tossup as to which song I'd roll with as several of the ones I heard were all awesome. With the frame of mind I'm in, I had to roll with Making Me Want You. Mostly because if a band is doing their job correctly, it makes the fans want them. In perusing their website I see a plethora of stuff all over it. I see a google+ right at the top, and further down the page I see a mailing list. The missing element was the fan club. Not that it's a bad thing. Just wondering where it is.
This song instantly getting you moving. It's an uptempo rocker. Debbie's voice deftly carries the song with a super sense of urgency. It really pumps things up. It also doesn't hurt that she's got a good tone with her voice. I can certainly see why they're getting some great gigs and licenses for their music. I can certainly hear why they're going places.
While I was call their sound a very updated version of say Pat Benatar, this is not a bad thing. Pat had some amazing songs. It's a great thing to have a springboard of greatness to leap from. Ten Year Vamp has that.
I'm sure Ten Year Vamp is seeing some good success, I wish them well. I also hope they capitalize on gathering fans. I won't be offended if they decide to hold a creative contest to name their fan club (provided they don't have one). Make sure you hit them up and buy their music! There's no shame in gathering in numbers.
****
Have a differing opinon? Wanna take it up with me? Leave a comment. Wanna be a part of my contest? Follow me by filling out the upper right form on this page. Have an awesome day!