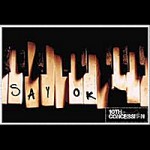 Wandering Monks
http://wanderingmonksmusic.com/
My oh my. I had a heck of a couple of weeks to kick this year off. Who am I kidding, it's January. For musician's that's the month that sets the tone for a whole lot of the year. I've been kickin about for nearly 3 weeks. An appearance at the CCC (California Copyright Conference) as a guest panelist. Followed by some very productive meetings. Then an adventure at NAMM for roughly 5 days worth of time. Plus toss in a little Sundance film festival activity as well. In all, I met a slew of new people and it's time for the dreaded networking follow up email stuff.
Actually, I shouldn't say dreaded. More or less it's part of making new contacts stick and seeing how the relation between people can be beneficial. One thing a lot of people tend to say to me is that I'm pretty good with making and dealing with connections. Even had it suggested that I ought to write a book on networking, and how to do endorsements. I think it's pretty wild that I'm considered to be that good at it – I have to work at it like anyone else.
For today, I'll be sending out a video to a couple of companies that wanted a particular type of PR usage on a recent project I did. Then I've got about 25 emails to write to reach out and talk about some strategies for how I can benefit them and their work. I can't forget that I need to also do some composing. One of the peeps I need to reach out to later this week wanted some cues from me. Eight of which will be all new and I'm still working on them. Which means, get to the music for today's SOTD.
Today is something quite different in the Hip Hop world. It's a bit raw. It's stretching boundaries with a little more singing and lot more harmonies than I'm used to hearing in a Hip Hop song. It's the Wandering Monks. I dig the funky opening with the bass and the punchy horns. Beyond the standard vocal layering, they're using a bunch of harmonies. This has me twisting my head slightly like the old RCA Victor dog. When I do that, most often it's because there is something in there that I'm really intrigued by. Wandering Monks are no different. There's a blend of something new for the genre and it's fun and refreshing to hear.
That's the real ticket, getting someone to really dig the vibe you create. Wandering Monks have that. Hopefully their doing some good networking for themselves.
Speaking of which, I need to be getting on with things. Time to kick into network follow up email mode. Which means, enjoy the music, enjoy your day. If you're diggin the blog – make sure to sign up for my email list in the upper right column and enjoy something extra!