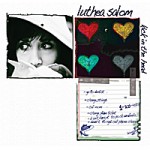 Luthea
Here's a little idea that just struck me. I'm going to start a little series on what it takes to really be pro in the world of music. I'm finding more and more people wanting to get in on the game of music. Yet even with all the information that is available out there, it's amazing how little education there really is. That is highly unfortunate. Thus I'm going to start with my musician support network part one.
One thing I find lacking with a whole lot of the information on all the promoting and theories of expanding fan base out there is the most fundamental idea of all – writing great songs. It's probably assumed by all the conferences and pontificator's that the music out there is already a hit and you only need to market it correctly. Reality is, songwriting is the very first thing that needs to be looked at when it comes to turning a writing talent into a business.
Every creative field requires that the artist in question needs a support network. It's the rare exception that doesn't need it. But that's the exception, not the rule. As a songwriter, the first goal is to find peers whom you can trust their opinions. Generally this leaves out your parents and your siblings. They will likely love everything you even without objectivity. The same can be said for your best friends. They won't want to hurt your feelings unless you know them extremely well and aren't afraid to give you objective critiques.
What's a writer to do if they're going after a commercial market?
Many might suggest getting lots of fellow songwriters to give you feedback. That's great if you're writing songs for other songwriters. However, they aren't necessarily music buyers. Plus for some writers it might be pretty hard to get a peer writer who is substantially better than they are to provide feedback.
My rule of thumb is this. Get a cross section of people from varying backgrounds. Gather at least 10 people whom you can trust their opinions. Make some of them other song writers. That last sentence sorta flies in the face of my last paragraph, but I do think it's appropriate to have at least one or two peers on your list of people. They will provide structural type of songwriting feedback. But it's best if they are better at writing than you are.
Make some of them people you kind of know, but are also artists in a different arena, like painting, poetry, or prose. They'll be more likely to point out issues in the lyrics. Meanings of words are important. Meter for melody, also important.
Make some of them people who are strictly music fans. They are the people that buy music. The real trick is making sure it's not about the production of the song when they're listening. You'll find that they can tell you what is and isn't working for them in a song. This is very important as they're are the music buying public and making it work for them makes it work for many more.
I'll let it slide to allow some family members in on the process if they'll provide real feedback and not blow smoke up your butt. That won't help you at all. It's great for the ego, but hell on the creative process. If they can give you honest feedback, then go for it. Otherwise, take it with a grain of salt.
Be aware that this is only the first step. Getting the song idea out. Then going through drafts and rewrites. Get the great songs first!
This leads me into Luthea. The song she's doing very much feels like it's in a beginning stage (although it's not going for a super commercial market and it's released). The very opening lines pretty much sum up my sentiments here. The great thing here is the prosody here. The music is following the words. Keeping things simple. It's a simple vocal. It's a simple guitar part. The words are laying it out.
I want to thank Luthea for asking me to show the song. Hopefully you, the avid reader/listener will love it and buy it.
For those of you who are musician's, time to start thinking about the song first. Do you have a great network of people you can bounce your ideas off of and know if your songs are working for others? Thanks for stopping in for my musician support network series part one. If you're digging the info, please sign up for my email list in the upper right. You'll be glad you did and so will I!