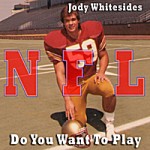 Jody Whitesides
https://nfl.hearjody.com
Today is wildcard Saturday for the NFL. The precursor to the nitty gritty of the playoffs. After this it's all about the Super Bowl. The question that has to be raised is… Who is your team? Are they gonna make it through the weekend? And, would they stand a chance in the end?
Tension. Excitement. Gridiron classics are made of these. What also has a tendency to go with all of this? Pizza and beer. I spent some time this morning making some of my infamous pizza dough. Why? 'cause I'm all about the quality pizza. No Dominoes cardboard for me. No greasy Pizza Hut either. Papa John's can't match my organic freshness. If there is one meal I rule at, it's pizza.
For beer it will have to be some local brewed ales. Mostly due to the fact that I have yet to delve into the art of making home brew beer. Not that I haven't thought about it. No. As a matter of fact I own the domain mymicrobrew.com. I have plans for it. Big ones.
Once the pizza is in the oven and the brews are uncapped it'll be time to be screaming at the tv about bad calls, awesome plays and general sportsman cheering.
In the meantime I should probably make reference to some music. Seeing as how this is a music blog.
Well since football is on my mind and that I'm out and about in the world away from my computer, I'll have to roll with a song I can easily get to. Plus it has to be about football. This I have to reintroduce you to Do You Want To Play – NFL.
Anthemic. Easy to sing and groove too. Sounds great in an arena. Simple and catchy. All phrases that describe this song. The best part is that it was done by yours truly.
Big NFL fan? Great. Then I'm sure you're interested in picking this gem up. By the way I've done a version for your favorite team or teams.
To make it even better for you… This song while bei g available at for favorite digital music service is also available from me for a limited time. Visit nfl.hearjody.com and follow the rules. The. We'll both be in bliss.
May your team pull out an astounding win today. What better way to get past wildcard Saturday than to win here and go on to the Super Bowl. Right? Discuss below.
Get thyself onto my email list and have some real fun. How? Follow the form on the right side of the page.