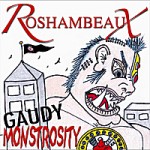 Roshambeaux
http://www.roshambeauxmusic.com
Where's the world turning? There's crazy politics. There's health issues. There's people hurting. There's all kinds of nutty stuff going on. For me, I've been finishing up a hell of a workout regimen – P90X2. Add to that I'm writing tons of stuff for new ventures in music, be it trailers, commercials, and my library. Juggle with deals I've already got that need renewing. Oh, and add themes being created to help launch a new network. Plus I'm now watching a music geek show called Pensado's Place, where I'm learning more about mixing music. Sprinkle a dash of meeting with investors and it wraps up a guy who has a lot of irons in the fire. That poses the question what makes your money maker?
It's odd that right now we have a political system that has dropped the idea of doing something good for the people. Instead they're into sound bites and propaganda. Sad. Especially when we have a president that is having issues fixing a broken system. Even worse when the "opposite" major contender lies out of his mouth and ass at the same time – oddly I'm still amazed that very few people cares that he lies and continues to lies with no repercussion.
The rise of poor health is mostly about poor food supply. Yet instead of making the idea of fucking with the food supply illegal, we let it continue. In this respect I'd like to dare America to be more like Europe and stand up against the corporate destruction of our food supply. Stop allowing Monsanto and other purely evil companies to screw up the food supply.
There's a bright side. Those that create, work, and stand up can make a difference. Will you?
Right now I've got a song that's been sitting in my inbox for a bit.  Of course I've been shirking my made up job of this blog to work other aspects of my existent. One, I'm happy to say that one of my goals recently has been to Look Good Naked [hint hint, main reason why I'm rolling with today's song], to that end I've been doing P90X2 and I'm saying – it works. I'm an advocate of taking care of my own health. Beyond that I stretch out in my main career.
Roshambeaux, who's song you're listening to right now, is about people using their "money makers". The obvious idea of a mm is a woman's ass and/or boobs. For a guy it's generally his rugged looks and/or his package. The thing is, this song is perfect for something like the collegiate/university market. Not heavily polished, but very live feeling. Plus, when you're out drinking at a party, then main idea you're pursuing is being attractive naked to those whom you're interested in.
With the swagger this song has, I can imagine that should Roshambeaux put on a hot and sweaty show, the crowd will be going home lucky. That's the whole idea right? It's what makes your money maker drive right? It should. Love yourself enough to be the change for yourself and ultimately for others. Get on their bandwagon. Get on my bandwagon. Buy the music. Sign up for email updates. Go forth and be alive.