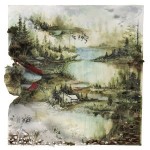 Bon Iver
http://boniver.org
One thing the internet has done has been to explode the world of media into a billion little pieces. On one hand it's very easy to find things you might know about. On the other hand it can be a nightmare. Especially when you realize that finding music you like happens to be getting harder and harder. At least is it for me, and I'm on the inside so to speak. I work in music and get handed a lot of it. I can't imagine how hard it is for a consumer.
It was part of the reason I started Single of the Day. To be a source of new music. A way for some lesser known artists to hopefully gain exposure in the sea of the digital internet ocean. I do what I can to fulfill that goal. The real plus is when an artist meets me face to face and thanks me for having this blog. It's awesome when I hear that they gained new fans because of you, my friendly readers.
I may or may not have mentioned that I'm a Grammy member in the past. I actually enjoy it. There's some cool perks. I also enjoy having the credentials to be a voting member. Which allows me to listen to a lot of music around this time of year. Or more than usual. I recently turned in my ballot. While I won't say who I voted for, there is an artist that I had not heard of that somehow created a sneak attack on my musical senses.
Upon the initial moments of listening I was thinking, ugh, this is not gonna work. But I had a moment of distraction. Next thing I noticed I had listened to the whole song and found myself hitting the repeat button so I could hear it again.
One of the absolute greatest things you want when writing music is to encourage that desire to hit the repeat button. Not but outright saying it, but by having such a great song that the listener is compelled to hear it again.
I've had people say it about me, and it was extremely flattering. It's rare I say it about someone else. However, today is one of those days…
The artist in question is Bon Iver. Pronounced: Bon E-vere. The song is Holocene. At least that's what you seeing and hearing here now on Single of the Day. If you're on the RSS feed, click through. You gotta hear it. It's simple layers that add up to complex stuff. It's unique. It's different. He draws you in, ever so slowly, and then wraps you up in a way that you can't escape, but end up loving it. I've played it for a few people in the past couple of days and everyone has said the same thing: I love this.
Those vocals! That's the part that really gets me. They're so layered. In a way that I would really think ought not work. And yet, this works oh so well it's sick.
I ended up googling him and found a great interview that must have taken place recently. The man behind this is so cool. He's like most really talented musicians I've met who aren't stars – he's humble and easy going. At least this is the persona that came across in the interview.
While I'm doing what I can to make finding music you like less hard. I'm going to go out of my way today and say – you had better pick up this album. It's a veritable classic. Along the lines of a Pink Floyd Dark Side of the Moon classic. Seriously. It's that damn good.
While you're at it, hit up my email list in the upper right for a surprise. Don't forget to leave a comment down below. I will respond.